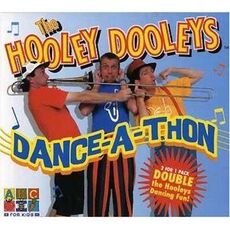 "
Dance-a-thon
" was a special album for
The Hooley Dooleys
that entertained Australian children for more than a decade that time.
It was released in 2006 when it was a decade of them entertaining children.
It features 2 discs for 1 pack with 43 tracks altoghter for The Hooley Dooleys dancing fun.
This Album has Roll up roll up and Keep on dancing
Tracklist
Edit
Hip Hip Hooray 
Knee Bopping
Island Holiday 
Slug 
Up and Down 
Monkey 
Circus 
Waving 
Springs 
Stretch 
Jumping Castle 
Look at Me 
Bunny 
Around the House 
Get the Job Done 
Zoom 
We Are the Hooley Dooleys (reprise)
We Are The Hooley Dooleys
I Don't Think So 
Shake It 
Itchy 
Hat Song 
Come on Everybody 
Zoo 
Show Me 
Fishy 
Ooh La La 
Trampoline 
Go to Sleep 
Beat 
Beach 
Dance Like Tickle 
Can You Feel the Rain? 
Funny Sounds 
With the Hooley Dooleys 
Sneeze 
Draw a Circle 
Brush My Teeth 
Sit Down 
When I Grow Up 
Antoine's Accordion
Ad blocker interference detected!
Wikia is a free-to-use site that makes money from advertising. We have a modified experience for viewers using ad blockers

Wikia is not accessible if you've made further modifications. Remove the custom ad blocker rule(s) and the page will load as expected.