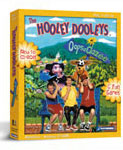 "
Oopsadazee
" was a
Hooley Dooleys
computer game released in 2002.
Join the Hooley Dooleys in Oopsadazee, a fun and educational collection of games designed for children aged 3 to 6. Along the way children will gain confidence and build skills as they interact with their favourite Hooley Dooleys characters.
Make music with the Hooley Dooleys. Help Tickle dress herself with many different colours and styles of clothing. Play concentration with David and challenge Bruce to a game of tic tac toe. Help Antoine lead Russell through a maze to find where Tickle is hiding. Paint Hooley Dooleys pictures on screen or print them for hands on creativity away from the computer. Children are sure to come back time and time again to play with their friends Antoine, Bruce, David, Tickle and Russell.
Ad blocker interference detected!
Wikia is a free-to-use site that makes money from advertising. We have a modified experience for viewers using ad blockers

Wikia is not accessible if you've made further modifications. Remove the custom ad blocker rule(s) and the page will load as expected.