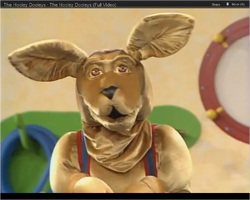 "
Russell the Muscly Kangaroo
" is a Kangaroo who is a friend of
The Hooley Dooleys
. he was also the first friend to be presented out of the 5 characters, introduced in 1996, his best friend is
Tickle the Doodat
Voiced byEdit
Murray Bartlett (1996 - 2000)
Mal Heap (2001 - 2006)
On the front cover of The Hooley Dooleys album, he is yellow and a cartoon, but he's really live-action and brown
He is the longest-existing Hooley friend
He also appeared in the Yumbo Jive music video, which was the only on-screen time he was alone with The Hooley Dooleys because Tickle wasn't born yet
Russell is 24 years old, making him a little older than Tickle, he was born January 15, 1993
Ad blocker interference detected!
Wikia is a free-to-use site that makes money from advertising. We have a modified experience for viewers using ad blockers

Wikia is not accessible if you've made further modifications. Remove the custom ad blocker rule(s) and the page will load as expected.