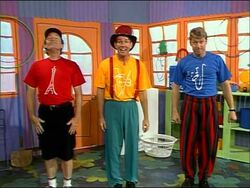 "
Shrinking Laundry
" was an episode from
The Hooley Dooleys
1999 tv series.
Songs Featured
Edit
series Theme song We are the hooley dooleys / The hooley dooleys
Its washing day David put in his tops its washing day today im going to wash my tops before Antonie and bruce
Antonie comes then Bruce comes
Song 1 Im a washing machine
then all of the tops got mixed
Song 2 On my Tshirt
Ad blocker interference detected!
Wikia is a free-to-use site that makes money from advertising. We have a modified experience for viewers using ad blockers

Wikia is not accessible if you've made further modifications. Remove the custom ad blocker rule(s) and the page will load as expected.