Super Dooper

Produced

Maree Kirkland-Morris

Released

September 9, 2004

Previous Video

All Together Now (2004)

Next Video

At The Farm (2005)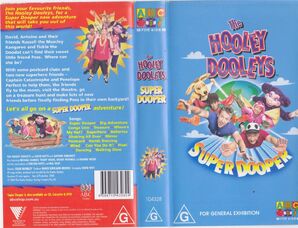 "Super Dooper" is the eighth Hooley Dooleys video. It was released in 2004. It is also the first video in which Bruce does not appear and was the last VHS to be released in Australia before At The farm released just on DVD. It is a VHS and a DVD release.
Song List
Edit
Super Dooper
Postcard
Big Adventure
Where's My Hat?
Treasure
Superhero
Can You Do It?
Walking Slow
Pixel
Ballerina
Hands Dancing
Mirror
Shaking All Over
Dancing
Wind
Conga Line
Super Dooper (Instrumental)
The Hooley DooleysEdit
Character PerformersEdit
Super HeroesEdit
Special CharacterEdit
Dan Fabian as Postman
Dennis Clare as Button The Mime
Casey Hadfield & Kim Wiles as Pixel
Casey Hadfield as Pirouette The Ballerina
PuppeteerEdit
Watch Full Video!
Edit