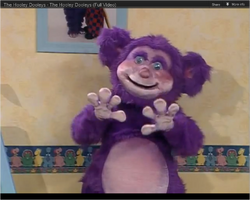 "
Tickle the Doodat
" is a friend of
The Hooley Dooleys
.
Performed byEdit
Voiced byEdit
She was originally going to have pink fur
Tickle is 19 years old, she is also younger than Russell, making her born on July 29, 1995
In the first video, she said she liked going to the Hooley House because it was entertainment to her
There's a reason why she's purple
Tickle first appeared in the second album, "Splash" in the song "The Doodat Dance "
She went though seven different preformers
She was also the first Hooley friend to be un-clothed, Since Russell has blue and red checkered pants
Because of her name, she likes Tickling people
Ad blocker interference detected!
Wikia is a free-to-use site that makes money from advertising. We have a modified experience for viewers using ad blockers

Wikia is not accessible if you've made further modifications. Remove the custom ad blocker rule(s) and the page will load as expected.