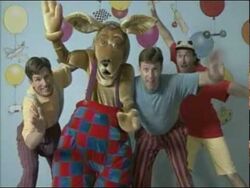 "
Yumbo Jive
" was a song about jumping and doing moves with David, Bruce, Antonie and Russell.
Yumbo Jive
Tickle the Doodat does not appear in this video because she wasn't created until 1997
Like the Wiggles first video, one of the songs was filmed a year before the release of the video, this song was in Hooley Dooleys' first video, from 1997, and this was filmed on September 11, 1996
Russell doesn't sing or speak, but this is the only video he appears and Tickle doesn't
Bruce wears green suspenders instead of red
Antoine wears yellow shorts instead of black
Ad blocker interference detected!
Wikia is a free-to-use site that makes money from advertising. We have a modified experience for viewers using ad blockers

Wikia is not accessible if you've made further modifications. Remove the custom ad blocker rule(s) and the page will load as expected.